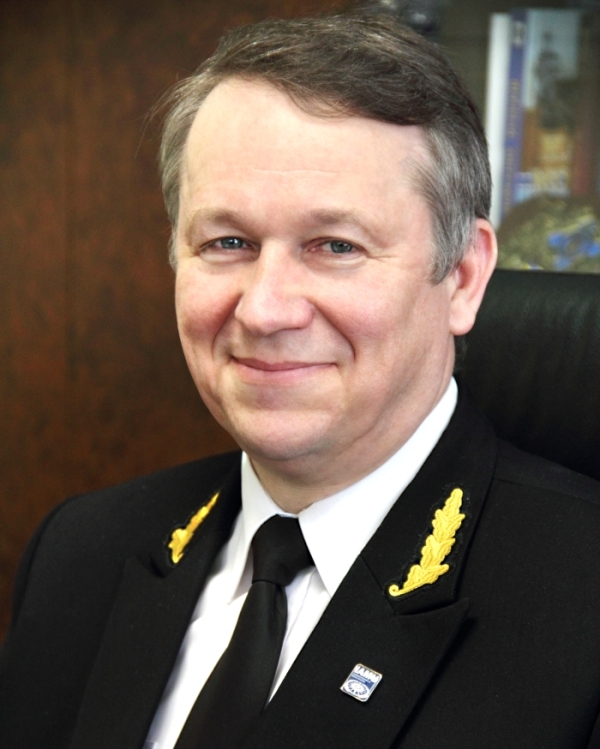 Dear friends!
---
On 7, January 2019 our respected university celebrated its 75th Anniversary. Odessa Maritime Academy has been a well-known institution in the world maritime community for a very long time. The Academy was formed in 1944 and since then it has already changed different names: Odessa Higher Marine School, Odessa Higher Engineering Marine School, Odessa State Maritime Academy, Odessa National Maritime Academy, National University "Odessa Maritime Academy". Throughout the course of its history, the Academy has provided high professionalism of scientific-pedagogical personnel, standards of education and cadets' training, which are in compliance with all international and national standards. National University «Odessa Maritime Academy» is a leading educational, scientific and methodical centre, which defines the strategy and the ways of the maritime education and training development in Ukraine.
The main objective of National University "Odessa Maritime Academy" is to satisfy the growing educational and cultural needs of citizens of Ukraine and foreigners in obtaining higher maritime education which ensures employment opportunities, high salary, lifelong career development perspectives and competitiveness in the world labour market.
The objective is premised on the increase of the volume of maritime transportation in the world shipping, growing demand for highly-qualified officers on-board vessels and staff of the coastal structures of maritime industry. Ukraine is among five leaders regarding the number of officers in the world's merchant fleet owing to graduates of the Academy.
During the years independence of Ukraine, National University «Odessa Maritime Academy» has presented new specialities, has created a network of branches including: Azov Maritime Institute (Mariupol), Danube Institute (Izmail), Maritime College of Technical Fleet, Maritime College named after O.I. Marinesko, Naval Institute and Military Department of Maritime College of Technical Fleet. Total amount of cadets and students of the Academy and its branches is about 10000 people. Moreover, annually thousands of seafarers undergo refresher and updating courses at the Academy.
The system of seafarers' training and certification in Ukraine is approved by International Maritime Organisation and European Maritime Safety Agency (EMSA), which allows graduates of the Academy to work in foreign companies all over the world, including onboard vessels under the flags of the European Union Countries.
In 2018 EMSA carried out the inspection mission at the National University "Odessa Maritime Academy". During the discussion on the inspection results EMSA inspectors concluded that seafarers' training at the Academy is conducted by highly-qualified instructors and lecturers according to the effective and up-to-date programmes. The inspectors also noted that there is a high level of special equipment and simulators.
NU "OMA" is an active member of International Association of Maritime Universities (IAMU), Black Sea Association of Maritime Universities (BSAMI). As a part of official delegations of Ukraine and IAMU representatives of the Academy take part in the work of Assemblies, Committees and Sub-Committees of International Maritime Organisation. Quality Management System of the Academy is certified by Bureau Veritas according to the International Standard ISO 9001:2015. Bachelor's and Master's training programmes for 4 engineering specialities have been accredited by the Institute of Marine Engineering, Science and Technology of Great Britain (IMarEST) to meet the highest level (Chartered Engineer) in the UK.
It has already become a good tradition to hold an annual International Forum of Seafarers' Training, Education and Crewing. Forum is held by the Academy together with the Exhibition Center "Odessa Home" in the premises of the Passenger terminal of Odessa Sea Port. In 2019 more than 100 companies and organisations, 180 delegates from 25 countries took part in the Conference. The exhibition was attended by thousands of guests.
The Academy possesses a modern material and technical base including up-to-date maritime simulators thanks to the participation in the international projects and sponsorship of the following companies: V.Ships, MSC, OSM Maritime Group, MOL, Stolt Tankers, Stargate Maritime, Columbia Shipmanagement, Minerva Marine and others. In recent years new objects, the following laboratories and simulators have been put into operation:
Conference hall designed for up to 100 people at the Education building № 4 with modern audio-visual equipment (sponsored by OSM Maritime Group);
Global maritime distress and safety system simulator GMDSS TGS-5000 at the Department of Maritime Radio Communication (sponsored by МSC);
Fire-fighting training facility and equipment for the Training Centre «Survival in Extreme Conditions at Sea» including: emergency radio beacon, 3 emergency radio stations, radar transponder, different types of life-rafts, life-jackets, lifebuoys, immersion suits, fire-fighting suits, different types of fire-extinguishers, foam generator and other fire-fighting equipment (including the sponsorship of  Minerva Marine);
full-mission engine room simulator produced by Kongsberg Maritime at the Department of automation of diesel and gas turbine power plants (at the expense of the grant which NU "OMA" obtained in the framework of the investment project of International Maritime Employers' and Maritime Transport Workers' Trade Union of Ukraine);
certified intellectual laboratory of programmable logic controllers (Smart Lab) for 12 tasks at the Department of the theory of automated operation and computer engineering (sponsored by the TATU project);
engineering workshops with milling, drilling, grinding and 12 turning machines at the Department of technology of materials (sponsored by V.Ships);
60 kW diesel generator Kohler produced in the USA for the cadets' practical training at the Department of fleet technical operation (sponsored by V.Ships) ;
engine room simulator TRANSAS ERS 5000 solo with 18 workplaces at the Department of ships' power plants;
modules of simulators: dual fuel Diesel-Electric MAN L51/60DF for a gas carrier; search-and-rescue module; module for towing and mooring operations; modules of five navigation areas and five types of ships at the Institute of Postgraduate Education «Training and Certifying Centre of Seafarers»;
modern navigational equipment, including 2 gyro compasses with repeaters and 2 magnetic compasses, an echo sounder, a GPS receiver with a display, an antenna and a power supply  at the Department of technical means of navigation (sponsored by MSC);
Xerox Versant 2100 for Ultra Digital Printing (sponsored by MSC);  Multi-functional device Epson SureColor SC-T5200MFP: Colour printing machine Epson SureColor SC-T5200 and scanners SureColor SC-T5200D, 914 mm format; adhesive binder, grommet device, laminating device at the Publishing centre;
Computer class for 12 PCs with specialized software for calculations of loading plans of different types of vessels at the Department of Marine Transportations (sponsored by Columbia Shipmanagement);
More than 300 PCs, including 6 computer classes for the Departments of theory of automated control and computer engineering, Department of the English languages, Department of navigation electronic complexes, ship electrical engineering, maritime technologies;
Multimedia equipment (projectors, screens, interactive multimedia boards, TV panels) for 30 rooms.
In 2019, a new high-voltage equipment laboratory was put into operation (switchboard device 7,2 kW, 125 A) produced by Siemens. Purchase of equipment which was worth 1,119.3 thousand UAH, was implemented at the expense of the Stargate Maritime and STARGATE Ukraine, that are subsidiaries of the shipping company K-Line. Also in 2019, the updated NTPro 5000 simulator version 5.35 was put into service at the Department of Navigation, instead of the previous version of the NTPro 3000, with Wärtsilä software. Sponsorship, at the rate of 2013.5 thousand UAH, was provided by MSC Ship management.
By the sponsorship of the OSM Crew Management computer equipment and specialized software for the engine room simulator were installed at the Institute of Training and Certifying Centre of Seafarers» – a model of the electronically controlled MAN B & W ME engine at the rate of 986.8 thousand UAH. Minerva Marine has installed additional equipment for a full-mission navigation simulator – universal radar keyboards (6 pcs.) for a total of 8500 Euros. Video projection equipment was donated by Columbia Ship Management, Nordic Hamburg, SOLSTAD offshore crewing Services of Ukraine, and Maritime Transport Workers' Trade Union of Ukraine. The laboratory stand "Small research pool for the study of buoyancy, stability, subdivision and free onboard vibrations of a vessel in still water" worth of 100 thousand UAH was received by the sponsorship of Boris Stankov. From Academy's partners there was also received special literature amounting to 187 thousand UAH.
NU "OMA" possesses all the necessary equipment, methodological support and human resources for the training of graduates in accordance with the requirements of the International Convention on Standards of Training, Certification and Watchkeeping of Seafarers (STCW) with Manila amendments. Bachelor's degree programmes and curricula include all types of compulsory training required for the first Certificate of Competency and master's degree training programmes provide the opportunity, if appropriate, to hold senior command positions (master, chief engineer) on vessels. The Institute for Postgraduate Education "Training Center and Certification of seafarers" of the Academy created necessary conditions for effective seafarers' training. Scientific schools, postgraduate and doctoral studies, the dissertation council for the defence of dissertations, the publication of Academy's scientific works collections provide an opportunity for effective training of highly-qualified personnel, such as Doctors of Philosophy and Doctors of Science.
Cadets are offered a campus, which has 4 crew buildings (dormitories), a dining room and a buffet, a library, a sports complex, a modern medical centre, and its own gas boiler house all located on its territory. NU "OMA" has created all conditions for physical education and sports: an olympic-class pool, game rooms and gyms, a mini-stadium, and a water station on the seashore.
In 2019, 967 academy cadets (excluding structural units and part-time students) completed onboard training on vessels of 144 foreign companies. Every year, more and more shipping companies in the world give preference to Academy's graduates. In total, in 2019 the Academy issued 3,100 diplomas to graduates of various levels from a Junior Specialist to a Master's degree. All graduates of the Academy have the opportunity to find a job according to their specialty. The NU "OMA" diploma provides broad career prospects, both onboard and onshore, at enterprises and in companies of the maritime industry.
On November 21, 2019, the rector's election was held at the NU "OMA". The academy staff overwhelmingly supported my candidacy. The contract with the Ministry of Education and Science was signed for five years. Thanks to everyone who supported me and considers it appropriate to jointly continue the work that we are doing and will do for Ukraine, our cadets and graduates.
Our doors are always open for the graduates and friends of the Academy. We invite to study at our Academy all those people who are willing to continue respected traditions and to become highly-qualified professionals of maritime industry.
Respectfully,
Rector of National University «Odessa Maritime Academy», Honored Worker of Education of  Ukraine, Doctor of Engineering Sciences, Professor Mykhaylo Miyusov