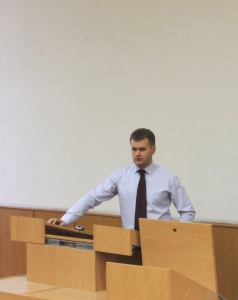 On November 6, 2018 the representatives of «Stargate Ukraine» crew management company in the name of M.A. Donchenko, captain, crew manager and R.A. Grabovoy, captain, management expert visited National University «Odessa Maritime Academy» to make a presentation on the company's activities, conduct interviews with the University's cadets of Navigation Faculty, Marine Engineering Faculty and Automation Faculty.
The cadets are to be interviewed in the following three stages: a psychological test, a professional test and interview with the representatives of the Japanese office of «Stargate Ukraine» to test a good command of English . Upon successful completion of these stages, the students will be able to work in the company "Stargate Ukraine" for the period of on-board training.
«Stargate Ukraine» is the only representative of K-Line, the largest Japanese shipping company in Ukraine. «Stargate Ukraine» crewing agency specializes in the mixed crews on modern pure car carrier and bulk cargo vessels of foreign shipowner as well as trains future specialists on board its ships as part of Cadet Program. This Cadet Program gives marine students the opportunity to gain practical experience, start their professional activity from the second year of education and obtain needed sea service on the job training. «Stargate Ukraine» provides the cadets with opportunity to work and grow fast on modern vessels installed with the latest equipment. The Program also pays special attention to the formation of a highly professional and high potential personnel reserve. All necessary development and operation of this Program is carried out in close cooperation with profession-oriented universities of Ukraine, in particular with National University «Odessa Maritime Academy».