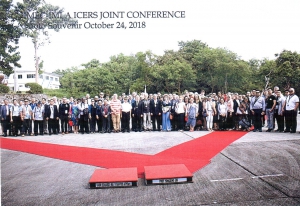 The First Joint Conferences of the International Maritime Lecturers' Association took place in «Diamond Hotel Manila» in Manila (Philippines) from 22 till 25 October, 2018. The conference included: 25th International Maritime Lecturers' Association Conference (IMLA), 30th International Maritime English Conference (IMEC) and 14th International Conference on Engine Room Simulators (ICERS). The conference was organized by the Maritime Academy of Asia and the Pacific (Philippines).
«The New Wave of Excellence in Maritime Education and Training» was the main topic of the conference.
The following issues were discussed during the conference:
IMLA Sub-themes:
Innovations in Maritime Education;

Social Learning in MET;

New Technology in Maritime Education;

Assessment of Maritime Education;

Quality Assurance in Maritime Education;

International Maritime Education Programs.
IMEC Sub-themes:
Cross-curricular integration of teaching, learning and assessment in Maritime English courses;

Language, communication and the maritime domain – common topics and overlapping issues;

Cross-cultural communication and awareness from different perspectives;

Unification of graduate attributes: competence, performance, teaching, learning and assessment;

Cross-curricular/cross-course adaptation, design and implementation of teaching and learning activities of Maritime English;

E-learning, blended learning, e-platforms, computer-based testing ideas and suggestions;

Trends and research; teaching materials and learning activities ;

The professional implications of the professional maritime context and how they condition communication at sea ;

Train the trainer – trainer requirements and competences ;

International cooperation –needs, opportunities and possibilities.
ICERS Sub-themes:
Trends and Technologies used in Engine Room Simulation;

On-board Autonomous Systems and the future of Maritime Simulation;

The future of Simulation – Virtual Engine Room Simulators.
The conference programme involved an exhibition of the world-famous manufacturers of engine room simulators and their suppliers: KONGSBERG, UNITEST, ARI Simulation, POSEIDON, Velca Equipment & Engineered Products Inc. and others.
Vadym Zakharchenko, Professor, Vice Rector for Scientific and Pedagogical Affairs, Sergey Karianskyi, Associate Professor, Dean of Automation Faculty, Olga Monastyrskaya, Associate Professor, Head of English Department, Nadiia Ivasiuk, Professor of English Department represented National University «Odessa Maritime Academy».
The conference gathered 120 delegates from more than 20 countries, including 29 educational institutions and over 64 papers and presentations were made.
Besides, a visit to the Maritime Academy of Asia and the Pacific was held.